Winner of Public Contest (84), is of his own the logo of the Foundation Culture of MS.
Created promotional material for the 6º, 10º and 11º Fine Arts Salon Mato Grosso do Sul (88-97-98) and III Music Festival of Mercosur (98), creating a sculpture for this purpose.
Creation and completion of full campaigns for Art Salons in Mato Grosso do Sul
In creating competition poster IX Festival of South Mato Grosso Theatre (98) obtained the first place.
Poster prizes in competition
In the Visual Arts since 1968 and participated in collective exhibitions in São Paulo, Campinas, Itú, Limeira, Brasília, Campo Grande, Dourados, Rio de Janeiro, Bolívia and Paraguay.
It has several awards in drawing, painting and sculpture.
Awarded Special Reference in the Hall "For an Amerindian Identity," his "Landscape Kadiwéu II" is the" MARCO "Museum of Contemporary Art in Mato Grosso do Sul.
| | | |
| --- | --- | --- |
| | | Painting donated to the Association of Children ACCD with cancer of Campo Grande |
Besides painting is dedicated to workiron and solder, with pieces and sculptures that express a universal language, but inspired by the land where he lived for many years (Campo Grande/MS - Brazil).
It has sculptures, paintings and drawings in museums, art galleries, schools, stores decoration and in private collections,
including abroad (Portugal, Italy, Spain, Germany, France, USA, etc.).
In 2002 a sculpture series "Instruments" gave him the 1st prize in X UniversidArte (University Estácio de Sá).
In the 4th Winter Festival of Bonito, as well the art conference, participated in the project "Art Door," creating an outdoor with more than 200 bottles of water captured in Formoso River with help from Junior Guards Florestinhas.
He participated in several exhibitions the collective UNAES - University Campo Grande, the last in 2003 with three parts shows the "Luxury of Trash - Recycling Art.".


Series "Family" Son



From Minas Gerais (Guaxupé) (1948), lived for more than 25 years in São Paulo/SP, 23 years in Campo Grande/MS, and since 2005 lives and works in Portugal (Costa da Caparica).
He studied at the School Design and Advertising Panamericana de Arte, Sao Paulo/SP, the city where he joined the advertising, the Magaldi, Maia & Prósperi Publicidade (65), as an auxiliary studio.
He worked as a designer, retouching American art assistant, artwork, layoutman studio chief and, until firm to as Art Director.
Between a function and one of the art advertising market, passed by the major agencies, graphic studios and the country as Studio Ricardo Conti, Blase-De Carli, Almap, Lintas and Z + G Grey São Paulo/SP), Portal (Campinas/SP), NPP (Porto Velho/RO) in Campo Grande/MS, worked in almost all, as always Art Director.
In 92, 96 and 2009 was in Rome, Lisbon and Barcelona respectively studies.
It has Italian citizenship.
Vignette created graphics for the Encol Z + G Grey, gave Silver Award at the V Festival Brazilian Advertising, Packaging and Design (93), sponsored by the reviews About.
He received the Award for Best Newspaper of Sierra Art Director in 1992, and 96, was awarded the Trophy Sérgio Braga/Advertising Award Arara Azul with the campaign "Embrace Your City" (Prefeitura Municipal de Campo Grande) with ad newspaper category "opportunity",
besides being a finalist for the Grand Prix, with the billboard "Wheelchairs" newspaper category "opportunity".
In 1999 at the IX Center Outdoor Award won prizes: Social Action GOLD, GOLD Market, Apply GOLD, SILVER Market, BRONZE Market and BRONZE BRASS Apply.
Currently, in addition to painting, working as a free-lancer for various agencies and clients.
The Universe
of Fernando Marson
Fernando Marson's work transcends time because it fits in the space of myths revealing essences. In total unity with nature, will seek in various regions of the planet inspiration for paintings, drawings, sculptures and soldering iron, which express symbolically the union of the author with the world where it is located.
Artist researcher, wandered looking for the defining elements of Mato Grosso do Sul, to deepen it in the figure of an ox, an icon of wealth, the hero of our daily work, a symbol of patience, sacrifice, let's kill it in favor of that which dominates it. In his paintings, the oxen multiply in a strange dance of horns and heads, the nostrils and smell the world repel inquisitive faces of solutions to the riddles of existence.
The red tinged that frames blood, raises in the mind of the viewer desires liberation, breaking chains, which allow the escape from oppression. They are cattle whose gaze across the screen to propose us questions we do not know the answer. Oxen, as humans, crave ways of salvation.
The color is the sign greatest paintings of Marson: it is what determines the movement, the life of these cattle, which breed in small series of heads, like a family portrait in which the elements of the same generation were reduced to things, in total loss of personal identity.
The sculptures seem at first sight of child's toy.
The warrior with helmet, sword, seemingly open arms to fight in the presence of horns shows little, deformed mouth, the secret laughter of the author, his disdain for war weapons in the fight insufficient the waves of violence today.
A chicken leg atrophied, hair iron seems to mock the arrogance of the powerful, those who do not know, his example, to make life an exercise in ease. Apparently useless, these sculptural objects make you think, laid the head of the spectator strange questions about the existence of art.
Multiple artist always up to date with developments in information technologies, electronics, with prizes in several areas of the artistic, Marson Fernando with his paintings, sculptures, paintings, advertising, the permeate their production of a critical view of the world glorifies the art of Mato Grosso do Sul and Brazil.

Profa. Maria da Gloria Sá Rosa
Member of the Academy of Arts of Campo Grande/MS
Member of the Brazilian Association of Art Critics
Fernando Marson, with luggage in advertising to São Paulo, where he graduated and performs work in the most prestigious agencies, from the 80 sets in Campo Grande.
Here, he awakens to another visual way of painting, the mother of all arts, and has fascinated us through the ages, especially if we are sensitive to it.
Illustrations for Books
The painting advertising is so present in contemporary life that is difficult to separate it from the billboard or other media, especially the one who practices it to the classic status of the bridge-screen daughter.
The painting of this artist clears this difficult meander with lots of personality.
Catalog 25 years of cattle
Humberto Espindola
Fernando is present at important moments of our plastic.
Among the many who have recognized logo is the author of the Culture Foundation, showing that the fine work of our search as assimilated as cultural and became a son of the soil.
In 1988 is awarded in painting at the Salon "For an American Indian Identity," which appears the theme of the ox and from there will creating and developing his pictorial symbols where kadiwéu helps frame around your search of identity: a painting style characterized by bold colors and certainly as a result of its formation. Fernando Marson can, in many instances, rural lyricism that undoubtedly contributes to the enrichment of the iconography of South Mato Grosso.
Series "Watches"
More recently, has been making sculptures with iron, solder and objets trouvés. A great way for your work because you can maintain involvement with rural symbolism fascinates and robs the work of thematic figuration, leading to more independence to the field of plastic.
His roosters, birds, scarecrows or guardians, would sit with a lot of originality in scenic areas of our urban areas or rural areas.
Tastefully fills a gap in the "smithy" read this agricultural land.

Humberto Espíndola
Visual artist and Director of the MARCO
Museum of Contemporary Art, MS
Created in 2004 and finished several books underscoring, among other "Arts in Mato Grosso do Sul" with 368 pages, the authors Maria da Glória Sá Rosa, Idara Duncan and Yara Penteado, where the authors address a broad view of art in MS. From the same authors created the cover of the book about music in MS..

In 2006 participated in CowParade Lisbon 2006 with life-size painted cows, exposed at Augusta Street in Lisbon center.
Along with several artists from the CowParade, attended a conference in Lisbon Assembled in the Montado Restaurant, with the painting "Bovine Landscape".
In January 2007 made ​​an exhibition of 24 paintings at the Hotel Costa da Caparica.
In 2010 made ​​another exhibition of 20 drawings from the series "Birds and Fishes" in Residencial Mar e Sol in Costa da Caparica/Portugal.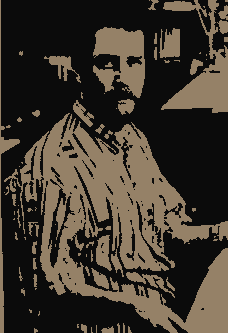 Scalinata - Taormina - Sicily / Italy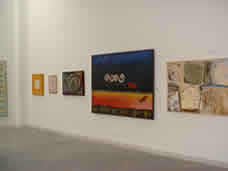 Wall in Afonso Pena Avenue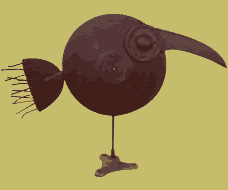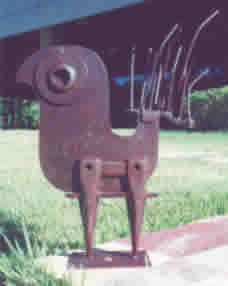 Landscape Bovine Ocarlina Prósperi
Bovine Landscape
1984 - oil on canvas - 150x130 cm
III Salon of Plastic Arts of Mato Grosso do Sul
1st Prize Painting "Gold Medal"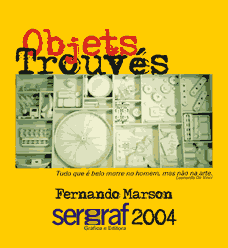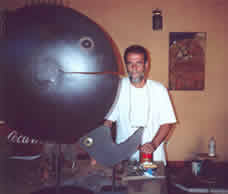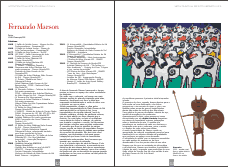 CowParade 2006 - Studio Painting
Bovine Landscape - Montado Restaurant
Exposure screens at the Hotel Costa da Caparica